GameBoy Advance Docking Option:
Unlimited Possibilities
ChildLikes is a licensed Nintendo development site and is now working closely with Nintendo to develop a docking station on the BUGZä play set for the GameBoy Advance SP (AGB). The BUGZä Robotic Gamingä Set plays three games fresh out of the box (without an AGB).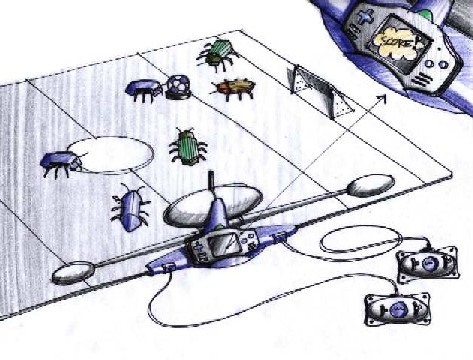 However, when a player wants to move to more challenging and fun play he/she can connect a GameBoy SP onto the built-in dock as shown in the sketch. With an AGB, the player has the option of selecting from many possible games available from 3rd party software developers.
Shown above is Robotic Soccer; just one of an unlimited number of creative and exciting games never before seen. Below is laser tag.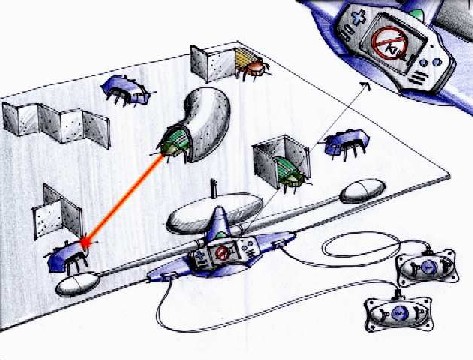 Game Boy Advance (AGB) Docking Option
Out of the box, the gaming hub has the ability to host three games; racing, tag, and wrestling. In addition, the gaming hub has a built-in dock for the Nintendo Game Boy Advance (AGB). When an AGB is docked, it becomes the intelligence, user interface, display, and sound effects for the game. The game scenario is then controlled by one of many possible AGB cartridges provided by third party developers.
Game Boy Advance User Controls
The buttons on the AGB will be used to set the various parameters of the game being played, begin/reset the game, select games, or select various game options. In other words, the AGB buttons are intended to control the gaming, rather than the characters. It is not intended that the AGB buttons be used to control characters during game play. Players control their characters using the joystick controllers supplied with the BUGZ™ set.
Game Boy Advance Display
The AGB display will represent various game-related statistics, events, or status. For example during game play, the display may show the "health" and/or score of each of the characters.
The display may alternatively show the position of each of the character on a representation of the play surface. In this display there may be lines or icons indicating that one of the BUGZ™ has "locked" it's laser onto another of the BUGZ™.
At times, the display may flash a screen indicating a major event, such as one of the BUGZ™ getting killed or scoring a point: "SCORE!!!" or "KILL!!!" or "GAME OVER".
In general the game is not played through the video screen. The player's attention is mostly focused on the physical characters of the game. The video screen is used to display additional information to augment the game being played by robots in the physical play area.
Game Boy Advance Audio
The audio of the game may contain sound effects and/or background music. The sound effects may simulate the sound of a laser cannon, crash, sniff, scream of a bug, splat, chirp, call, or other game-appropriate sound. Background music may be used to augment the stages of the game or indicate audibly various modes of the game.