BUGZTM Robotic GamingTM Play Set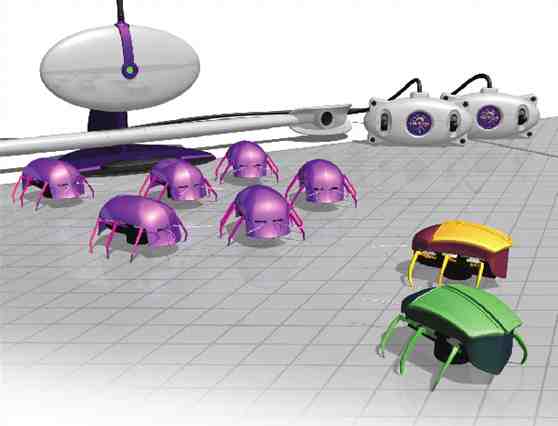 Set includes:

1 or 2 Players

Up to 16 hub-piloted drones

Comes with 3 games: Racing, Tag, and Wrestling

No batteries needed. Comes with one AC adapter

Set comes with 1 Hub, 2 Controllers, 2 BUGZTM, 24" X 36" play surface

$79.95 retail

Additional BUGZtm $19.95

Gameboy Advance SP docking station for unlimited play
Description
World's first Robotic Gaming™ play set. Up to four players can race at high speed, play tag, or wrestle. As players collect more BUGZ!™ they can become hub piloted opponents. Up to 16 BUGZ!™ can play at once. The BUGZ!™ play set runs indefinitely on an AC adapter. Expandable to four players.
We are also working closely with Nintendo to provide hardware compatibility with the GameBoy Advance SP. With a GameBoy Advance SP hosting the game, the play horizon becomes unlimited.