IROSTM - Infra Red Optical ScanningTM
Tabletop Position Tracking
The IROSTM system allows inexpensive tracking of toys on a play area. You can think of this as GPS for toys.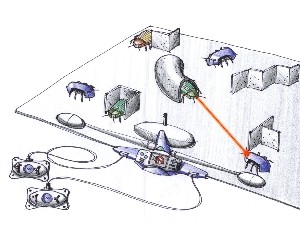 This technology gives toys the ability to see their surroundings. A toy that can "see" can appear infinitely smarter than so called "interactive" toys using current technology.
For years people have stretched their imaginations hoping their "interactive" toys are actually as smart as the box says, but it will no longer be a stretch. IROSTM enabled toys can see and interpret their surroundings like people can.
IROSTM is the technology that makes Robotic Gaming practical. Experts predict Robotic Gaming will be a $500M industry within 5 years of the release of the first affordable product.
If you represent a manufacturer with the vision and enthusiasm to enable breathtaking products using this technology, please contact mitch@childlikes.com